New Fantasy Football Off The Gridiron Takes Nation By Storm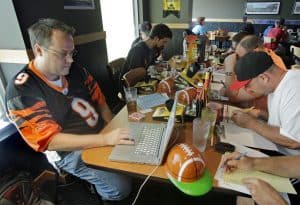 Jan. 14, 2016
Amidst controversy over gambling laws, fantasy football has found another loophole to allow players to continue wagering and winning money with their favorite players. What's the catch? The action happens off the field in this new game: Fantasy Football Off The Gridiron.
Players of Fantasy Football OTG will still be able to draft players and make teams, but rather than choosing players for their performance on the field, in OTG players are chosen for their behavior off the field. Different behaviors are given different point values and most of the action happens in the offseason, providing players with year round entertainment.
Acts of philanthropy earn your team points, while criminal and erroneous behaviors deduct points from your weekly score. For example, a player starting a charity for kids will earn a team 7 points for the week. On the other hand, a player that gets charged with domestic abuse will cost your team a whopping 2 points. Players can rest easy with two clauses in the rules that neither award nor subtract points for double homicide and intoxicated vehicular manslaughter: The OJ Simpson Statute of 93 and The Leonard Little Amendment.
"It's always nice when you have a player on your team start a scholarship for inner-city youths, but god dammit if three of your other players don't catch assault and weapons charges in a nightclub all at the same time!" said Fantasy Football OTG player Mark Rushberg. "I mean if I can make it through a season without a single rape or drug possession charge, I think I have a shot of making it to the playoffs."
When questioned about the legality of this, DraftKings CEO Jason Robins stated, "This is a game of skill because you have to judge the character of a man. Are you going to tell everyone with a degree in psychology they don't have a skill? Come on." He followed up by saying there would be another new fantasy football platform announced next week and will discuss the details in an exclusive interview with Word Brothel. Check back next week to learn more.