Kellyanne Conway on St. Valentine's Day Massacre and Chicago Crime Rates
2/14/2017
Counselor to President Trump and expert on United States massacres Kellyanne Conway made a statement earlier today on the tragic St. Valentine's Day Massacre and why it should be a "serious wake up call" for America. While she was correct about some of her assertions, she apparently wasn't aware of when the incident took place.
Conway told the press this morning, "America is under attack from violent and dangerous immigrants. Just look at the St. Valentine's Day Massacre. Nobody wants to talk about how these people came into our country and killed seven people on this day under the Obama administration. The media simply won't cover it."
"First Bowling Green and now Chicago, a city ravaged by gun violence and crime. When will the media accurately cover these tragedies in a timely manner? A ban on all immigrants and even second generation immigrants is the only solution," she went on, never thinking to check the multitude of information available on the internet.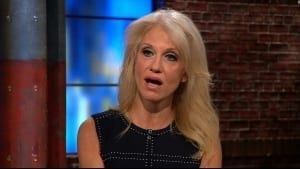 Conway was later seen talking about how people of color are ruining everything to a pigeon on a park bench. Reports of her ripping up paper hearts and throwing them at said pigeons saying, "You'll always love me right friends? You're always here for me, even when nobody else is," have also been flooding Twitter and Facebook.