Jimmy John's Reveals Gay Sandwich For Next Year's Pride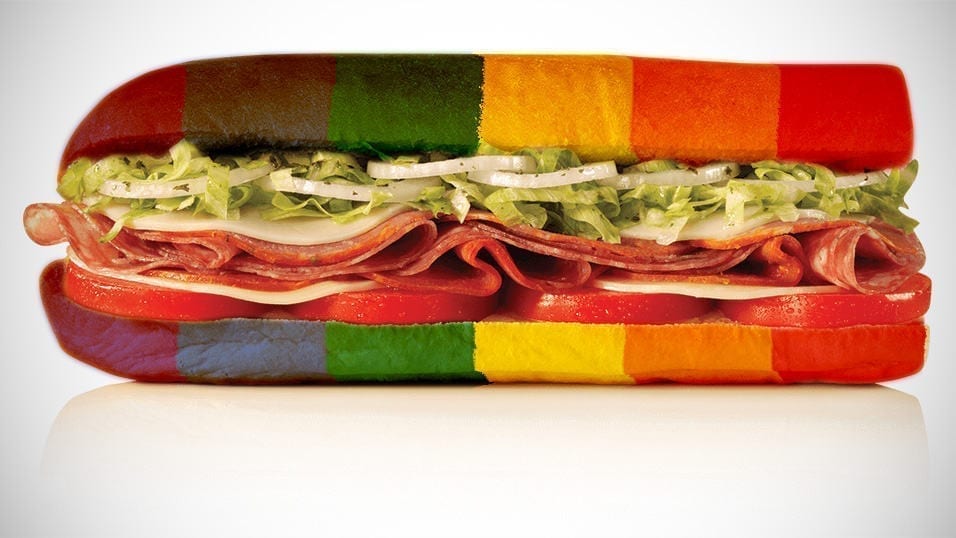 By: Zack Peercy
CHICAGO, IL—June is over, which marks an end to Pride Month, the nationwide celebration of the LGBTQ+ community, but sandwich chain Jimmy John's is just getting started. Their social media team has just unveiled concept photos for their "Gay Sandwich" for Pride 2019 and all we have to say is YAS KWEEN.
Jimmy John's Facebook posted, "Hunty, our mouths are already watering!" Attached is a picture of the freshly made loaf of Rainbow Bread, a multicolored whole wheat loaf that appears to have specks of glitter throughout. The post also includes several tagged celebrities such as RuPaul, Ellen DeGeneres, the Netflix Queer Eye Facebook account, Laverne Cox, and Andy Dick. It is unclear what meats, cheeses, and veggies will actually be on the sandwich, but we do know their target demographic.
A report, printed on lavender paper that smelled like ginsing, from Jimmy John's HQ was sent to shareholders early this afternoon citing several examples of "homosexual support" from Fortune 500 businesses during Pride Month. The "anal-ysis" shows that with the "Gay Sandwich coming out of the closet" and an "aggressively lit" marketing strategy "strap-on", Jimmy John's is looking at a "fire" fiscal quarter. Also included were the lyrics to "YMCA" by The Village People.
In addition to the "Gay Sandwich", Jimmy John's will be changing their theme colors from red and black to Rainbow. For the month of June, they will also be changing their marketing material to say "Jimmi Jane" for a "more genderqueer, feminist forward" title.
When asked if any proceeds would go to charities that support queer folx, like Sage, the Trevor Project, GMHC, National Center for Transgender Equality, or the Sylvia Rivera Law Project, Jimmy John's CEO Jimmy John Liautaud said:
"At this time, Jimmy John's is only interested in the 'Gay Sandwich' in celebration of Pride Month. We do not wish to participate in any charity donations as it would show a political or ideological bias. Jimmy John's is for everyone and will remain that way."
The "Gay Sandwich" will sashay their way to a sparkly non-binary probably vegan Jimmi Jane's in the trendy downtown, but not too downtown, district in June 2019.