Local Dude Turns Funeral Into Crunchy Jam Sesh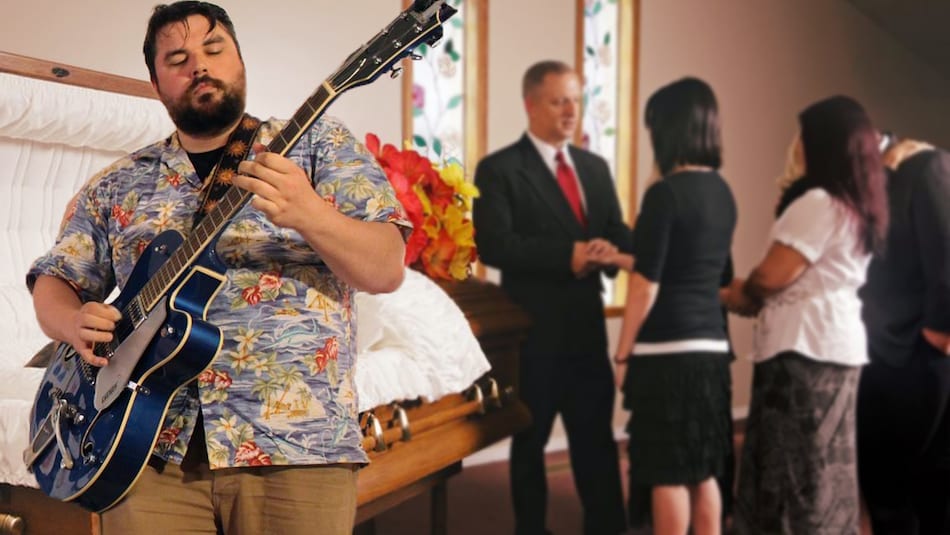 By: Ross Childs
BOSTON, MA—A man, nay dude, improved an otherwise dreary funeral when he whipped out his acoustic guitar and played his tune. Richard Parker, a music student at Boston University, attended a funeral for a fellow classmate's cousin. He noticed the totally depressed vibe permeating through the funerary establishment. Richard Parker, who goes by the stage name "Dicky P", pulled out his paint-covered Jasmine acoustic guitar and started picking out a rendition of Rusted Root's "Send Me On My Way", and according to Ric…ahem…Dicky P, the vibe, "totally shifted towards the joy nexus," and his control over the vibe was paramount for turning this funeral into a FUN-eral.
The parishioners filed into St. Marks of the Holy Fire Catholic Church for the tearful, red-eyed afternoon service. In attendance was Humphrey McGee, a BU music student and Plantersview's second cousin. McGee brought along Parker for moral support, who in turn brought along his guitar. Parker knew nobody except his roommate, but as soon as he saw the depressed faces, Dicky P had an epiphany.
During a eulogy from Plantersview's mother, Dicky P shot up like a rocket and exclaimed, "It feels a little dead in here. Let's liven this place up!" Two members of the clergy tried to stop him, but as soon as he started strumming out those tasty chords, those suits got down like a couple partyin' wombats. "It was the most incredible thing", said Dicky P, "Every note was a symphony. Every song an anthem." According to Dicky, the sea of black and grey suits soon turned beautiful and full of color and tie dye. Dicky P shredded out some righteous grooves, like a twenty minute reggae rendition of "Wagon Wheel" and an emotionally charged cover of "Pop goes the Weasel" to name a couple.
"It was odd," said funeral attendee Marcus Phloobin. "He started playing and singing way out of key. We all thought he was a friend – a little inappropriate for a funeral, but everybody grieves in their own way, I suppose." Earlier, Dicky P was allegedly seen ingesting copious amounts of the psychedelic compound 2CI in the Church rectory. "That was supposed to be Rusted Root? I had no idea," Phloobin added, "He was just wailing, then he passed out on a nun."

We have been informed that Humphrey McGee and Richard Parker are no longer roommates.