Orgy In Heaven: Catch Up With The Celebrities We Lost In 2016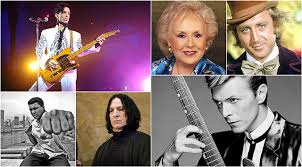 1/11/2017
2016 was a year marred by the loss of many beloved celebrities. In the wake of one of the most peculiar years for news on Earth, things have also gotten pretty weird upstairs in the kingdom of heaven. Every famous person who died last year is having sex right now.
It goes without saying this orgy of historic proportions was probably initiated by none other than Prince and David Bowie, two infamous sex symbols that the mortal world lost this past year. When it comes to the wild fuckfest in the sky, our loss is their gain. It's hard to be sad when one can find solace in the fact that at this very moment Alan Rickman and Alan Thicke are making an Alan sandwich out of Florence Henderson.
How can we be so selfish as to weep while Mohamed Ali and Nancy Reagan are in the great castle in the sky totally going at it, no holds barred. To think that while we type away our rest in peace tweets that Doris Roberts, who played Ray Barone's mother on Everybody Loves Raymond, is polishing Arnold Palmer's wood (and I don't mean his golf clubs) should be a source of comfort for us all.
If you find yourself feeling down about the iconic people leaving our plane of existence, just have some faith that right now in the afterlife George Michael, Zsa Zsa Gabor, Fidel Castro, and Gary Marshall are engaging in ass play the likes of which we have never seen. If the image of Gene Wilder and Carrie Fisher dressed to the nines in latex engaging in hardcore BDSM, ball gag and all, doesn't cheer you up, then nothing will my friend.