Musk Does A Dolezol, Builds 'Stefan' Clone Machine From Family Matters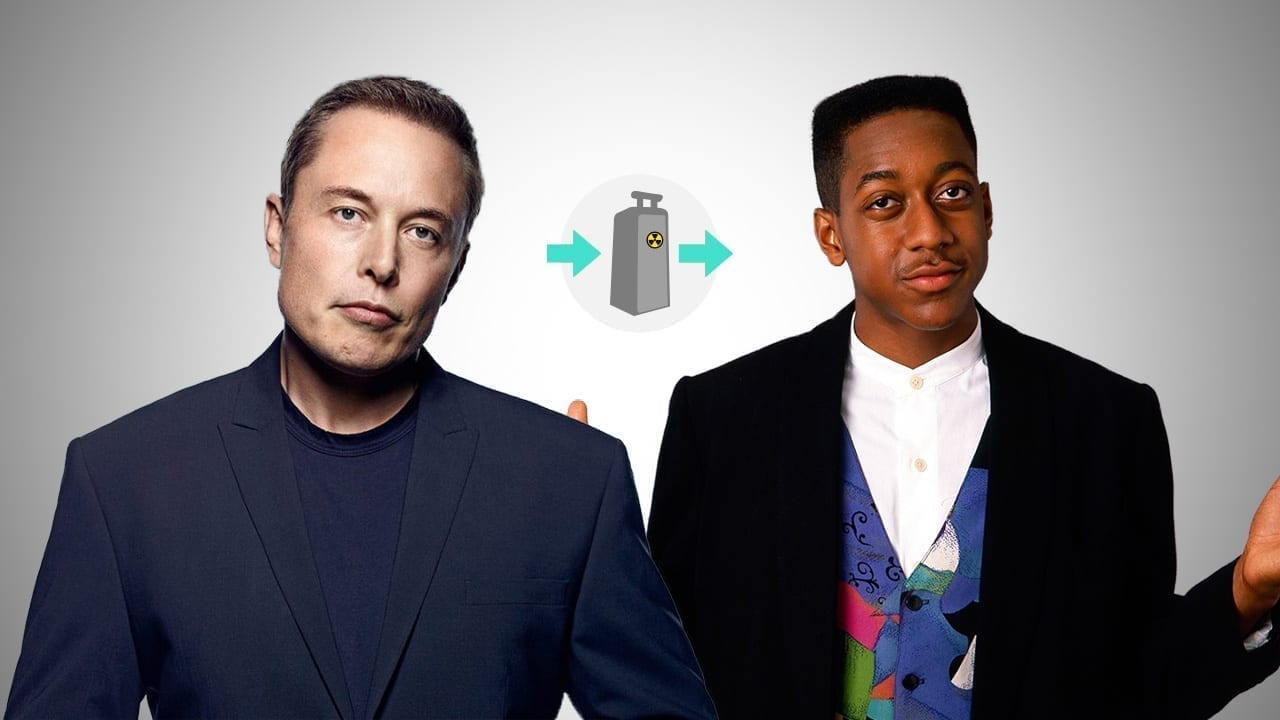 By: Jennifer Allman
Silicon Valley, CA—As Elon Musk watched Nick at Nite last Tuesday at 3AM, he found himself viewing for the very first time a revolutionary television show. Musk screamed, "Eureka! I've got it!" and took this new venture to his twitter feed: "This new TV show just changed my life!" The Boring Company founder may be busy building underground traffic tunnels, dodging libel suits, and joking about releasing a sex tape with ex-partner, Grimes… but, in the meantime, he has a new project under foot.
Musk has sworn to create a real version of a fictional cloning machine to turn him into a cooler, suaver, version of himself. That's right—the pasty-white, 22.1 Billion dollar-waving, mad man is getting a makeover. The cloning machine prototype he is building is based off of a plot device from the hit family television series, Family Matters.
In an episode titled, "Dr. Urkel and Mr. Cool," youth-genius and certifiable dork—Steve Urkel (actor Jaleel White)— creates a concoction called "Cool Juice," and transforms himself into "Stefan." In another episode, Steve updates the formula into something called "Boss Sauce." This is also the episode in which Steve creates his cloning machine. When he exits, he is totally transformed. He can now be the confident, white-blazer wearing, coolest-guy-in-school-Stefan for extended periods of time.
Musk saw this fool-to-cool transformation and immediately jumped out of his waterbed and proclaimed, "I want the Boss Sauce!" He then proceeded to finance the creation of said sauce and cloning machine and is now getting ready to give them a test drive. Reflecting upon his latest endeavor Musk asked himself, "Did I do that?"
Indeed, he did do that. The Boring Company is now focusing 98% of its financial and technical efforts on turning the 47 year old Musk into a 17 year old Jaleel White character from 1993. Nothing like this has been quite done before and that is "what the Boring company is all about" according to Musk.
Rachel Dolezol is, apparently, a fan of Musk's latest endeavor and tweeted at the mad scientist on Wednesday: "Amazing. Truly miraculous work. Can't wait to try this Boss Sauce myself, homie." Musk responded to Dolezol's Tweet with 3 emojis: a pair of sunglasses, two beers clinking, and a fist emoji in a dark skin tone.
When we reached out to actor Jaleel White for comment, White stated, "Everybody wants to be black until the cops show up. Musk'll see–the good cops, the Carl Winslows of the world, are few and far between. SMDH."