Meryl Streep Seen Throwing Away Plans For House Made Entirely Of Oscar Statues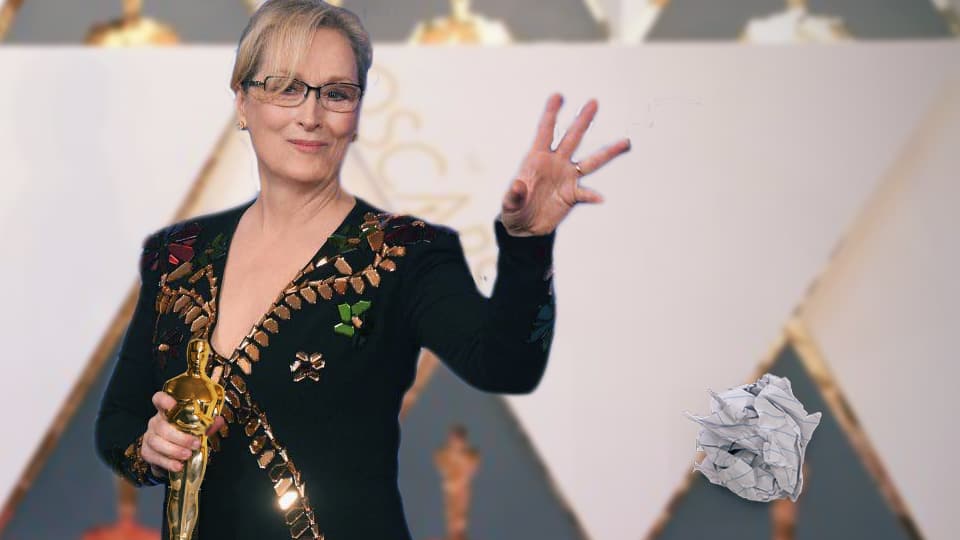 By: Ross Childs
HOLLYWOOD, CA — Another Oscar night has come and gone, and many artists walked away with a coveted gold statue. One person, however, seems to have been snubbed by the awards again this year. Meryl Streep did not win for Best Actress this year, much to her chagrin, as she was seen disposing of plans to build a summer home out of Oscar statues in a Hollywood waste basket.
Meryl Streep received the Best Actress nomination for her role opposite Tom Hanks in The Post: a 2017 Drama that my mom told me was good. This was her twenty-first oscar nomination, a record for the Academy, and would have been her fourth win. The award went to Frances McDormand for Three Billboards Outside Ebbing Missouri: a drama that my alcoholic but fun-loving aunt told me was good.
Streep was very congratulatory towards McDormand, but under her gracious smile lies a sad, unfulfilled yet great human with a bridge named "Solid Gold Oscar House."
In a post-award show interview, the illustrious Meryl Streep said, "Look, I am very happy for Francis, and for all the winners tonight, but GOD, what's a champion actress gotta do to build a summer home in Martha's Vineyard out of Award Statues??  It's every actor's dream to win an Academy Award, but that was never enough for me. I do not practice the craft of acting – I AM the craft of acting. I want to LIVE Academy Awards! I must be surrounded by accomplishment and grandeur – ONLY THEN shall I know success. And mark my words: I SHALL!! You've not seen the last of The Iron Lady!"
The actress then flew away on a preset diamond zip line, provided by Kay Jewelers, after setting off a series of smoke bombs concealed within her gown.
A reporter managed to recover the discarded plans for the Summer home. It is a blueprint for a modest two-story beach house with 3 bedrooms, 3 baths, a vertical tennis court, an indoor mud sauna, a sunken above ground swimming pool, a functioning clone of Daniel Day Lewis, and the Ark of The Covenant, all surrounded by gorgeous Oscar gold. It would have almost certainly failed an environmental impact test, but no one can deny it would have been beautiful.
It would have been almost as beautiful as the lovely Meryl Streep, who was sinisterly laughing over a lit flashlight while holding a folder that said, "PLAN TO STEAL OSCARS FROM TOM HANKS, JENNIFER LAWRENCE, AND STEVEN SPIELBERG." There's always next year, Miss Streep.