Family Plans Vacation Same Weekend As String Cheese Incident In Town A-Fucking-Gain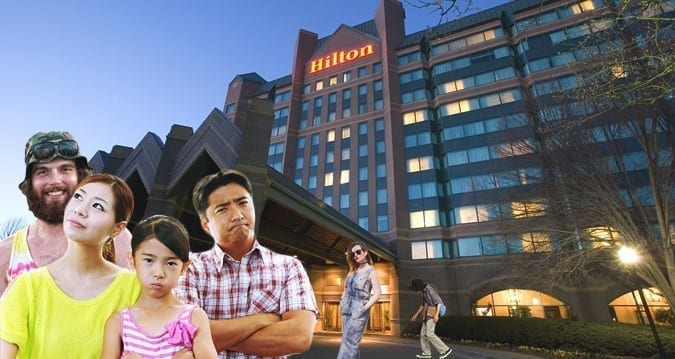 By: Maximilian Stolte
ATLANTA, GA—This spring, as countless families flee south for vacation to escape the cold winds of the north, one family in particular was looking forward to a little site seeing, rest and relaxation. What was waiting for the Watts family was anything but relaxing. For the third vacation in a row, the Wattses booked their hotel in close proximity to a String Cheese Incident show.
James Watts, father, golfer, and CPA, says he could tell before even checking in to the hotel that yet another relaxing stay would be ruined. "I could smell the marijuana in the parking lot and without fail the dreadlocks and tie-dyes were soon to follow. As what must have been twelve drug-addled 20-something-year-olds walked in to check into what was probably a room with two beds, I knew that we were in for another terrible stay," recounted a distressed Watts.
What they were in for, he explained, was loud music playing all night in the room next door, sex in the hotel pool, hissing and popping noises from the room across the hall, spunions marveling at the patterns of the carpet in the hallway, drug baggies full of mysterious white powder in the parking lot, and so on. Between keeping his children from getting a contact high just walking in and out of the lobby doors and his wife from getting ripped off on handmade jewelry called "heady wire wraps", Watts knew that he would find no respite here at the Atlanta Hilton.
The matriarch of the family, Jessica Watts, is especially careful with her children when these unfortunate scheduling mistakes inevitably happen to them. "New Years Eve we tried to go to New York, but they were there with their cult of colorfully dressed, glittery, hairy hippies. They're always trying to lure my children, playing with glow in the dark hula hoops and wearing capes like a damn superhero. Little Jeff and Lisa are just so fascinated by these smelly people and their shiny rocks, I don't know how to distract them anymore."
At the Watts family had overheard fans of the band in the elevator discussing the "dubstepped out Desert Dawn", they knew that they were in for overhearing the same debate from purists and new fans about the evolution of the band and the direction that they and their shows are headed. "That's a whole different headache from the usual nonsense we've been subjected to," commented James. "If we have to check tour dates for String Cheese Incident, Phish, Widespread Panic, whatever, it'll be worth the time just to have a nice family vacation where we can sleep at night like normal fucking people."