Desperate Times: Top Pornhub Search Now 'Two People One Foot Apart'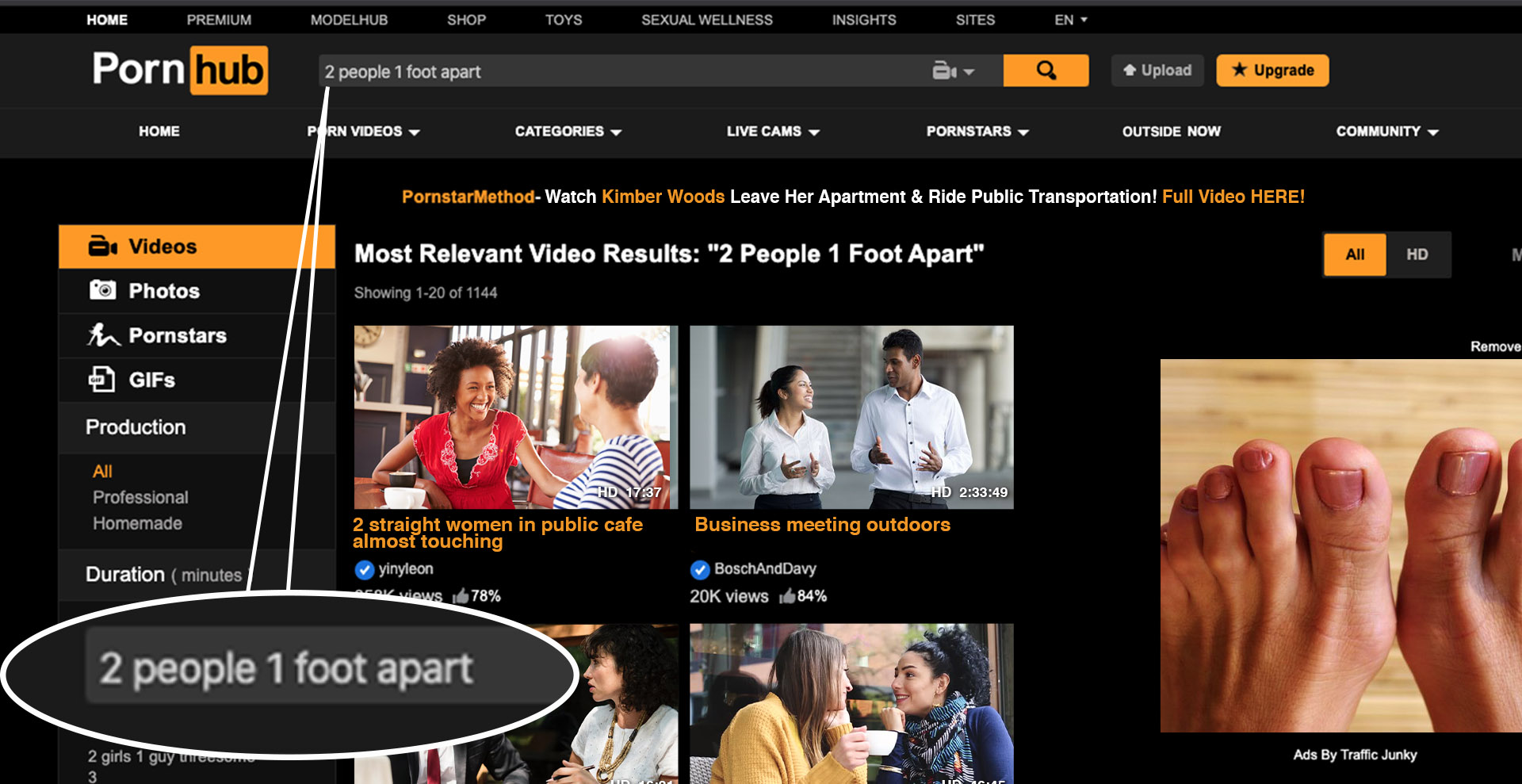 By: Kwarren Teenen
EARTH—Things are looking even bleaker today as the collective global horniness reaches unprecedented levels. As we socially, and subsequently sexually, distance ourselves from one another, it seems that our yearning for being less than 6 feet apart from one another has become a taboo with strong sexual undertones. The top searched term on Pornhub today is "Two People One For Apart" and the whole world wide web has been flicking bean and stroking shaft to this new trend in pornographic cinema.
Porn stars are loving how easy their job has become. Riley Reid reports, "Obviously I love sex, but I'm making even more money walking into a room and taking off a mask and gloves. All I have to do is stand a foot away from a guy and have an honest conversation. Sometimes two or three guys if it's a really hardcore scene." Breaking social distancing norms with groups of people congregating in one place is another common taboo that many are finding themselves aroused by.
Self-gratification enthusiast Derek Thicke commented on the new trend, "these days I'm finding myself waxing my pole to pictures of any group over two. I saw a video of a sewing circle from the 40s and had to excuse myself to the guest room in my mom's place where I'm staying until all this blows over." A source close to Derek (his mother) told reporters that his living there has absolutely nothing to do with the COVID-19 outbreak and she has been trying to get him to leave for years.
A closer look at the videos reveals a shocking insight into the quarantine sexual psyche. As loneliness increases, the standard for what we consider erotic lowers at an almost equal rate. Dr. Goren MD of the Masturbation Institute of Texas (MIT) says, "These new circumstances have forced us to reexamine what is considered pornographic. If one can find carnal release in a medium, we're extending our definition to include it. The naughty magazine section at your local gas station may include Better Homes & Gardens."
At this rate, there's no telling what the world will be watching while they diddle their fiddles and pluck on their harps tomorrow. More coverage tomorrow in our Daily Beat segment.