Woman Cleans House Pretending To Be Orphan Annie, Gets Adopted By Ellen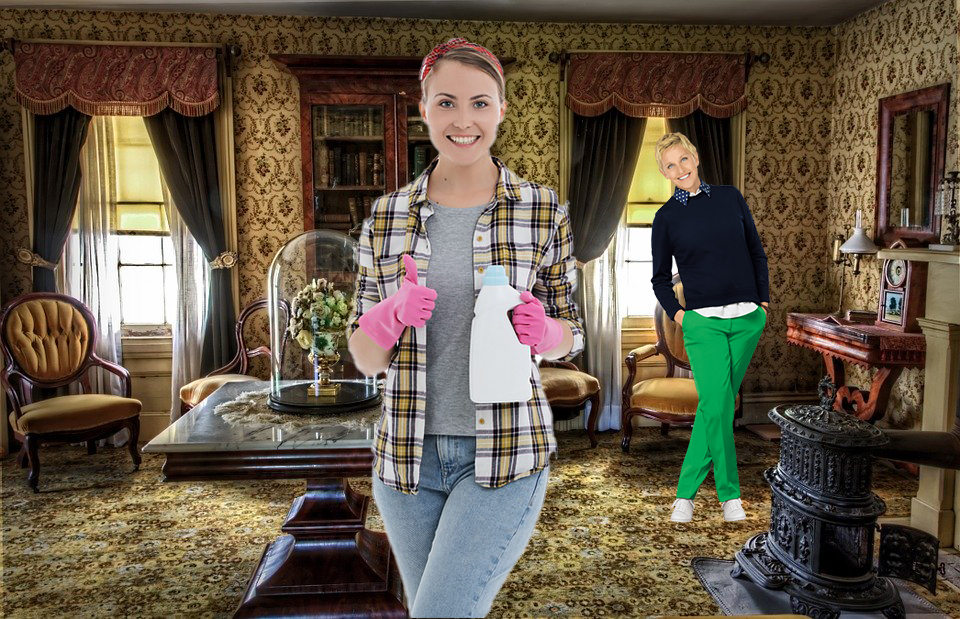 By: Sophia Birks

BEVERLY HILLS, CA—Even though no one is coming over, one local woman, Allison James, found the key to keeping tidy and staying active: role playing. What was once just a way to mix up the missionary position has now landed the internet star a new mommy. James, 27, began her rise to fame by posting a video of herself washing her floor while recreating the bubble scene in Cinderella. Many called this first video "unispired" and "The worst Disney remake since they actually remade Cinderella." She found her audience quickly though when she began to emulate that spunky, parentless tot we all know and love. The second video however, was of James covered in rags, pouring water all over herself, and throwing herself down the stairs to the tune of "Hard Knock Life". Before you get too excited, it was the original version NOT the Jay-Z song. 
It wasn't long until the video reached the top of the algorithm and landed in Ellen's email folder "Kid is heartwarming: Level 5 clickbait for Ellentube". Ellen was so revved up by something exciting happening that she called up an adoption lawyer, promised to slap them on the bare tushy with money and within an hour her and Porscha had a new addition to the family. Followers of Ellen will know that she's already had a very lively quarantine, as demonstrated in a viral video of her deciding not to do a puzzle, but this has somehow topped that.
Allison moved into the millionaire's mansion yesterday morning after agreeing to remain childlike with the plucky broken spirit only a 1930's orphan could exude. Ellen posted a video of the two tap dancing to "I think I'm Gonna Like It Here" on her channel once everything was finalized. James danced on her knees, still covered in dirt to maintain her orphan image, and Ellen had the lawyer dance in her place because she "hates dancing."
Since the adoption, all of Allison's media handles have been changed to @lildancingdegenerous and sources close to the family say Allison is only allowed to address Mommy and Ma'am by doing a soft shoe and saying "Are you tomorrow? Cause I love ya!" All of her profiles now have her age listed as 9-13. No one has seen James in person since arriving at the daytime tv mansion, although there were 7 hours where she was live streaming but it was dark and the only thing you could hear was a male voice softly crying. Viewers have deduced the owner of the sobs was Ellen's producer Andy: the haunted house guy and the one she makes dress up as an ice cream sundae where the banana is his penis.
The James family released this statement: "Allison, please come home. Your dad, he's not well. This could be your only chance to say goodbye." According to a now fired and homeless former housekeeper at the Ellen Estate, she likely won't receive the message as Ellen burns any letters from the outside world and limits internet access to Ellentube and addictinggames.com. Each night her parents pray that they will see her tomorrow and that she's only a day away.