Song Of Myself: Local Man Self Sucks In Self Driving Car While De La Soul's 'Me Myself And I' Plays Over Jim Carrey's 'Me, Myself & Irene'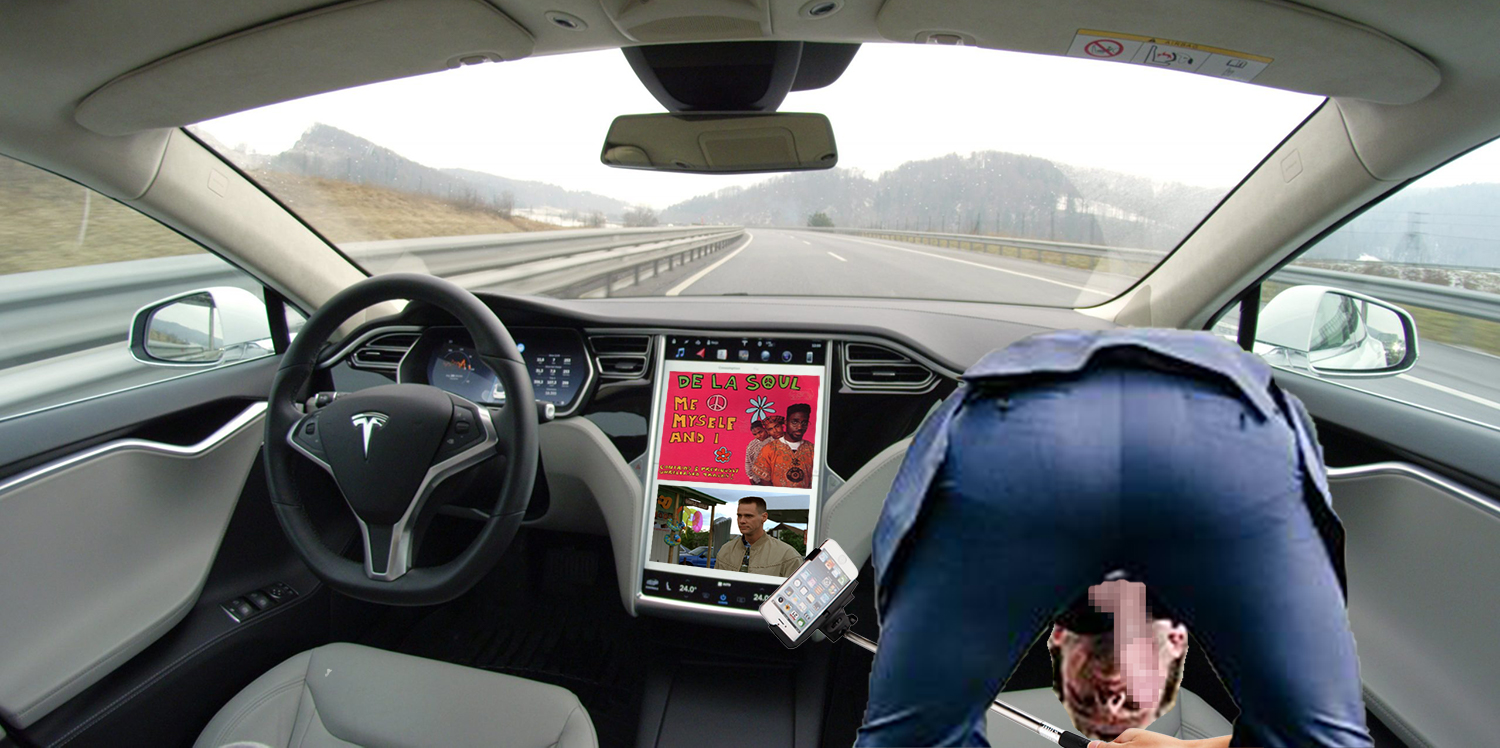 DENVER, CO—The rules of the road have been amended since earlier this week when investment banker Rod Tenning proved to the world that he doesn't need anybody for anything. Recently divorced and limber from weekly yoga class, Mr. Tenning took the freeway to work in a triumphant display of independence. To say that Tenning was feeling himself would be grossly understating it.
Rod started his drive listening to his anthem as of late, Me Myself And I by De La Soul, and playing his favorite movie about not needing a woman Me, Myself & Irene to see if they match up. They allegedly did in one scene where Jim Carey takes the place of a baby and sucks milk from a woman's tit, but that was technically a montage and just about any song would have worked there.
Suffice to say the titillating scene aroused Rod's rod and he turned on his Tesla's self driving function and unzipped his suit pants. "I just felt a rush of self esteem and confidence that I never did when I was trapped in that sham of a marriage. I could do anything. And the first thing I thought to do was suck my own cock. And if you believe in yourself, you could do it too," Tenning commented on his Instagram post of the ordeal. Using a selfie stick, he was able to document the entire ordeal and share to his 208 followers for inspiration.
His video went viral thanks to the self love crowd who saw that self love is less about being selfish and blowing off people you love and more about taking some time to masturbate in new ways and places. "He's like the opposite of the monk who self immolated in protest of the Vietnam war, except for just as brave. Maybe even braver than that guy," commented SelfLoveQueen3.
This avant-garde modern day Walt Whitman has inspired an entire generation to use technology to better and enrich themselves. With technology threatening to change every facet of humanity for the worse, it's truly refreshing to see somebody use these innovations in a positive way.