New Guy At Work Already Wearing Hawaiian Shirt After Third Day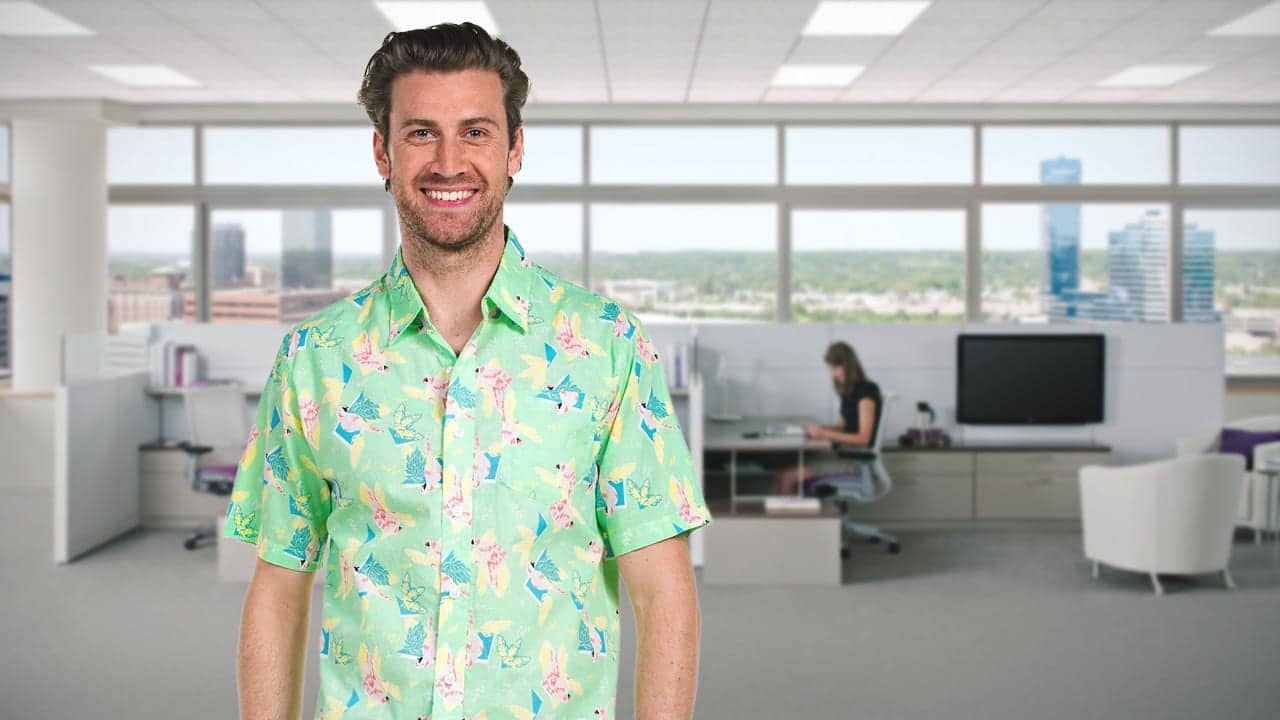 By: William Jennifer
A casual atmosphere in the workplace is a great way to give your employees a sense of freedom while tightening your grip on their lives with little to no raise in pay. As ping pong tables and dungarees become commonplace, the line between business-appropriate and Hell's Angel gets increasingly blurred. 
Newly hired QA Engineer, Wayne Salisbury-Bottoms, created further confusion on the topic of company etiquette last Wednesday when he strolled into work wearing a Hawaiian shirt on his third damn day. Two whole days before his first official Casual Friday, Wayne could be seen performing all of his tasks as he had been trained, but looking as nonchalant as a marijuana cigarette. The Hawaiian shirt in question, with its tiny islands, palm trees, seagull silhouettes, and margarita sunsets, stuck out like a grey tie at a black tie event.  
Salisbury-Bottoms's office, which is located in Indianapolis and not Hawaii where things like this are perfectly acceptable every day of the week, does not clearly state in its "Business Casual" guidelines whether this is an infraction, but general consensus around the office amounted to "It just doesn't feel right." One coworker commented, "On one hand it's a button-up shirt with a collar, but on the other hand it's got a significantly chill vibe with those seagull silhouettes and sweet margarita sunsets."
Regardless of the shirt's legality within the language of the employee handbook, it was clear that Wayne had become a distraction as heads could be seen swiveling above cubicle walls all day. When speaking with Margie from accounting, she was noticeably shook, saying "I'm just not sure if Wayne is a team player and I have to wonder if he's a good fit." However, Wayne, who came with a glowing recommendation from his roommate on the sales team, seemed completely competent at his job, while donning attire typically reserved for Florida getaways and Midwestern tiki bars. 
The shift in Salisbury-Bottoms's attire, though abrupt, did not come without warning signs, according to some staff. On Monday, his first official day of work, he was seen wearing the same suit that he donned during his interview. On day 2, his wardrobe was reported to be markedly different as he strutted into work with a polo shirt and khaki Dockers slacks. For anyone looking for red flags, it's clear that this won't be the last fuss created by Wayne Salisbury-Bottoms.