'I'm Really More Of A Ferret Person,' Says Man Unintentionally Ending Date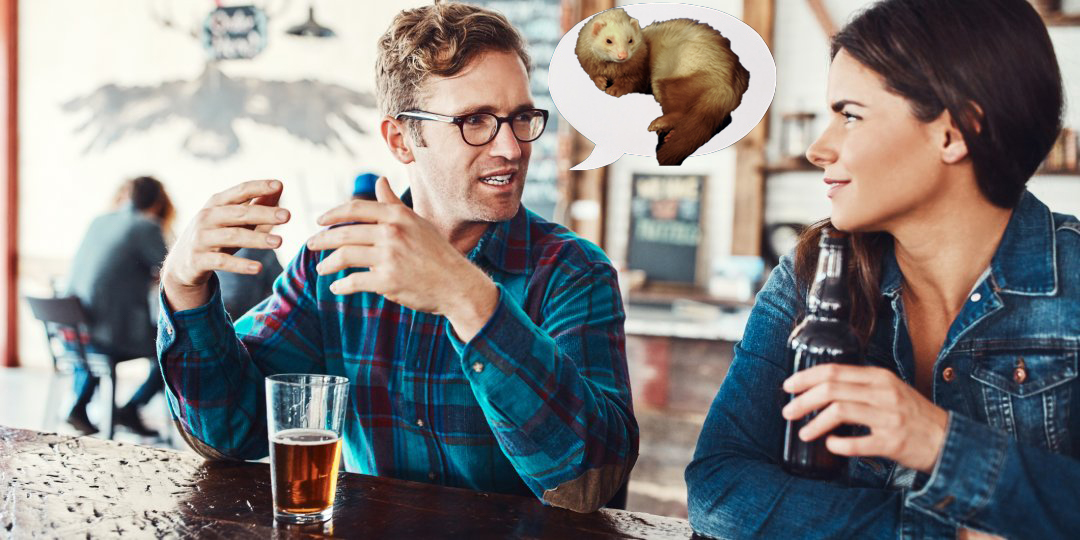 By: Katie Pecho
NASHVILLE, TN– Local schmuck Doug Dobson's first date with data scientist Kelly O'Reilly came to an inadvertent end Saturday night when Dobson asserted with perplexing fervor that he was "really more of a ferret guy."
The couple had been discussing pets, with O'Reilly excitedly regaling Dobson about her Weimaraner Klaus and tabby cat Mr. Billington.
"People always say, 'Oh, I'm such a dog person,' or 'I'm crazy for cats,' O'Reilly said with a feverish gleam in her eye, "but I just love both. I mean how could you choose? They're all so stinkin' cute!"
"I don't really get cats and dogs, to be honest," replied Dobson, without hesitation, "But a ferret, that's an animal I'm passionate about."
Sources say O'Reilly grimaced at Dobson's remark before sliding her phone from her purse to send a text under the table. She retreated to the bathroom shortly thereafter.
"Ferret people!" exclaimed O'Reilly with a shudder on a frantic call from the largest stall. "They're just not like you and I. I don't know what it is– their darting, beady eyes or the way they snarf up their food like vermin. And they always seem to have some essential oil or friendship bracelet they want to give you. It's just… eerie."
After O'Reilly was later found to have exited the restaurant through the kitchen, Dobson said, 'This isn't the first time, I can tell you that. If it's not the ferrets themselves, then it's my ferret t-shirts, or my ferret body pillow, or the funk album I released on Soundcloud entitled, 'Polecat Getdown.'' Dobson paid the bill resignedly, brushing a clump of ferret fur off his corduroys as he pocketed his wallet.
"I just can't seem to find a partner who accepts me for me. And me is a weasel man. I won't apologize for that."
Sources say O'Reilly talked of her "horrific" date with Dobson constantly for the next six months, telling anyone who would listen about her "harrowing experience".
At press time, O'Reilly was still talking of Dobson while sitting for a family portrait of herself, Klaus and Mr. Billington in a tender embrace.
"A ferret guy, I'm serious," she told the oil painter, who nodded absently. "Dude was a total fucking psycho. I'm lucky I made it out alive."
"Make sure you capture the full depth of Mr. Billington's gaze," she said. "He has a gruff exterior but is so spirited once you get to know him. It is critical that the painting expresses that."
"But for real. Ferrets. What a freak."