Dad Just Glad He Got To Crowded Restaurant Right On Time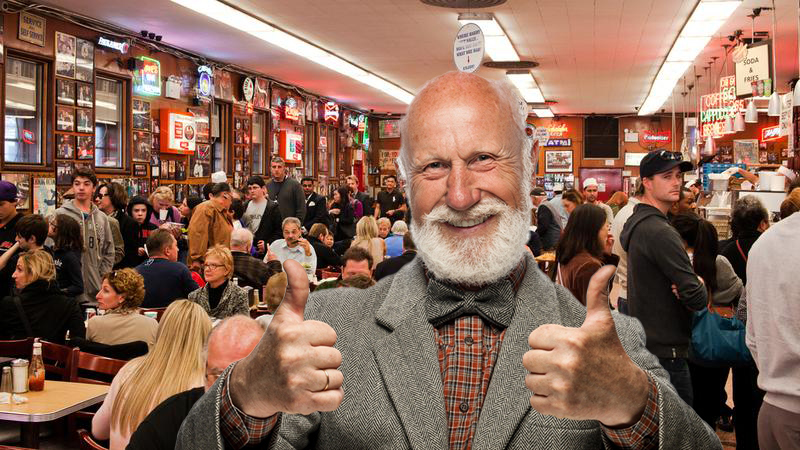 By: Katie Pecho
NAPERVILLE, IL— Local dad Bob Richter was in awe Friday evening after arriving at Big Lou's Little Kitchen only moments before a long line began forming behind him.
"Well, I'll be damned," he said, scratching his mustache and observing the newly gathered crowd. "We sure got here just in the nick of time, didn't we?"
Richter said he had thought about stopping first to do "one more thing" before leaving the house, but something told him he'd better get a move on instead.
"I mean, the grill still needs a quick once over, don't get me wrong," he said, patting his belly. "But I dunno, I said to Barb, I'd probably better save that for later because the dinner rush would be coming through anytime. And damn it if I wasn't dead on about that."
Richter, Barb and daughter Julie were seated almost immediately upon arriving at Big Lou's, a fact which Richter mentioned to his wife three or four times.
"Hoo boy, would you look at that line!" Richter remarked again, watching the waiting area fill to capacity. "If we would have gotten here five minutes later, we'd be eating at midnight."
When questioned by the server how he had enjoyed his house burger and side of garlic fries, Richter gestured at his empty plate and said, "Oh, it was just terrible," looking around the table expectantly for a laugh. "Gracias, amigo," he said then to the Italian busboy as he cleared their dishes, causing Julie to roll her eyes.
"That was some dinner," Richter declared to his family as they exited the restaurant after Richter pretended to forget his wallet before finally paying the bill. "You guys want a mint? They have mints."
Upon reading on his AOL homepage later that week that Big Lou's was temporarily shut down due to an outbreak of coronavirus, Richter called for his wife from the den. "Can you believe this, Barb?" he asked, adjusting his transition lenses and peering at the screen. "A whole damn outbreak four days after we ate there. How's that for timing, huh?"