Chicago Comedy Review – Wet Bus at iO Theater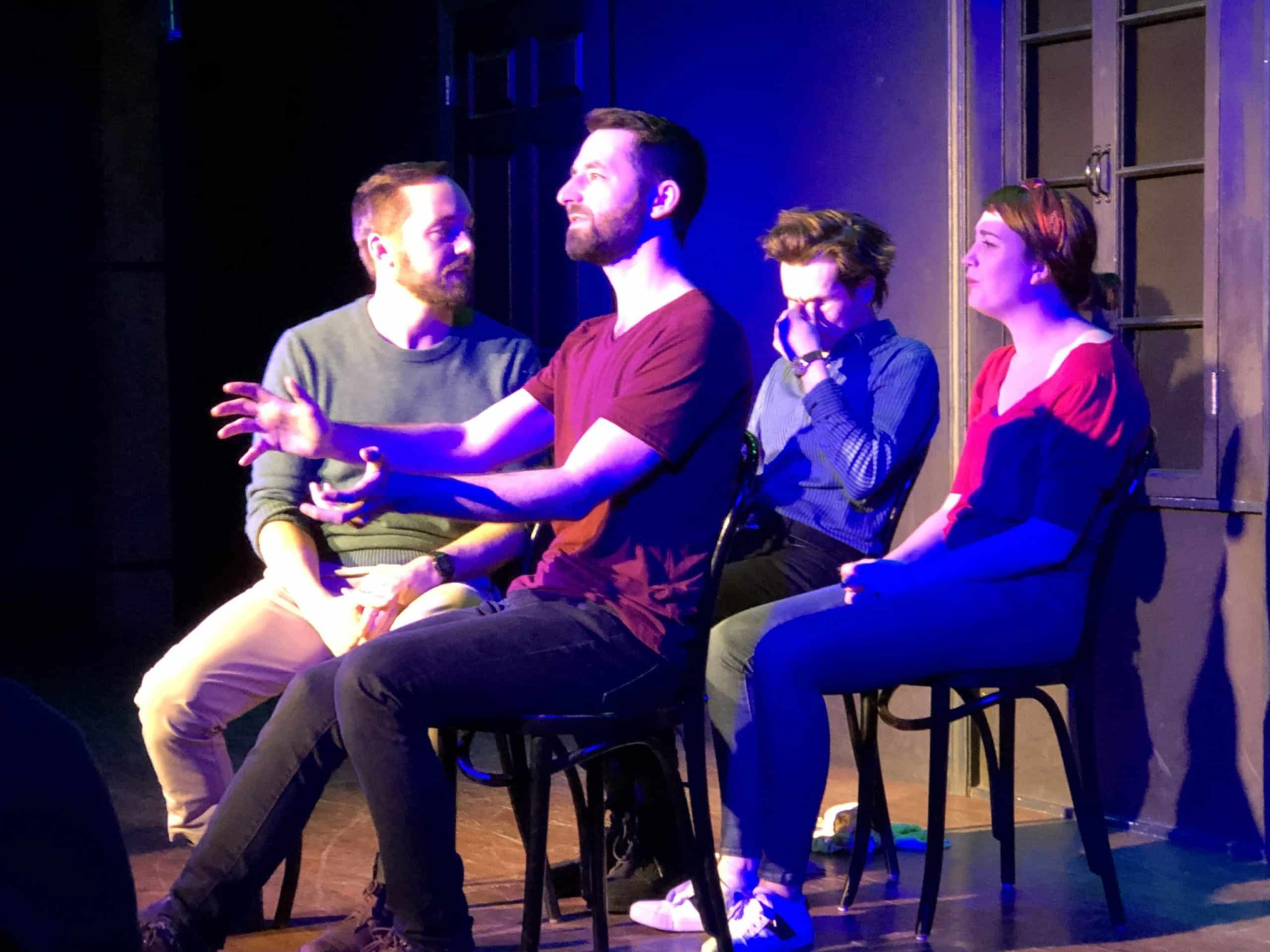 Easily one of the best indie improv teams in Chicago, Wet Bus perfectly balances absurdity and emotion. Rather than just a loose montage of bits, Wet Bus performs a full circle piece, taking characters and relationships on a wild journey where the destination is always unexpected but hilarious.
Wet Bus has performed together for 5 years, and it shows. Nothing—characters, games, ideas—ever drops. And they make bold moves with the confidence of knowing their teammates, each a seasoned veteran, will help them stick the landing. For example, in one scene, the group established they were at an Adam Sandler movie and without missing a beat, Sean Coyle stepped out to improvise an abridged one-man Adam Sandler movie, deploying catch phrases and accents with ease. In another, Erin Keif called her ex, and Andrew Robinson swiftly answered with the line, "Last time you called me, you said the birds were weird. And I came and the birds were normal, and you tried to french me." The pacing is fast but always with artistic intention.
Much of their success can be attributed to an all-star cast. Erin Keif and Sean Coyle are both regulars in the critically acclaimed Whirled News Tonight. Harrison Lott performs on multiple teams at iO and CIC as well as writing/producing his own shows. Hailey Palmer performs in the raucous LGBTQIA+ improv show Dreamboat and the long-running Harold team Meridian. Andrew Robinson, maybe the best actor of the group, performs with the Harold team Mean Streak. And Rayna Caskey, a powder keg of quiet intensity, is also a member of Dreamboat. Together, they form a perfect stew, able to play off each other in surprising, occasionally meta ways. For example, in one scene, Sean accused Erin and Andrew of always asking to see his penis. "Don't make us these guys," Erin warned. "Two can play that game. You're always trying to look at my butthole. That's YOUR thing now."
Wet Bus also has a penchant for mixing sincere relationships with the absurd, with Harrison being a particular asset on the latter front. At one point, Erin and Andrew discussed Andrew's discovery that his father was not his biological father in science class, while Harrison, the science teacher explained the chemicals they'd be mixing were "pigs and carbon". In another scene, Andrew and Erin played a recently broken up couple going through a tunnel of love where Sean personified the creepily sexual animatronic cupids around them.
But no matter how absurd they get, Wet Bus always returns to their beating heart, even if that heart is sometimes extremely gross and fucked up.
Featuring a different opening Harold team each week, Wet Bus performs Thursday nights at 10pm at iO Theater. You can order tickets at https://www.ioimprov.com/search/?q=wet%20bus
The cast consists of Erin Keif, Hailey Palmer, Harrison Lott, Rayna Caskey, Sean Coyle, and Andrew Robinson.