Chicago Comedy Review – GLAC at CIC Theater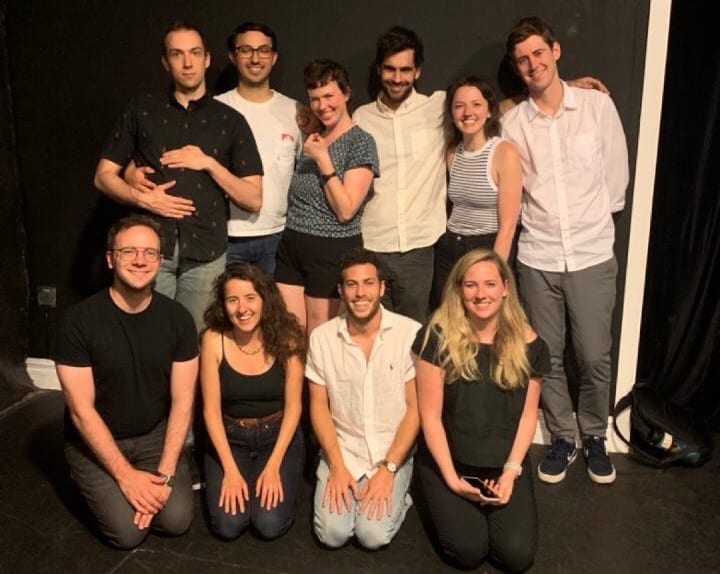 Great Lakes Activity Center or GLAC is a house team assembled by CIC Theater, the graduate school of improv comedy in Chicago. They currently host Glactasmagoria every Thursday at 8PM. Accompanied by another house team, each week they take audiences on a journey of experimental yet familiar improv. The show can feel like getting a glimpse into the underbelly of the improv scene, but is still incredibly accessible to those who have very little knowledge of improv comedy. The laughs start right out the gate as a host from the team gets the audience involved with a little character work.
In one particular show, Lucia Rieur hosted as a judge with bailiff Rudy Mendoza and asked the audience to determine whether or not CIC was a good neighbor. Even if you've never been there the bit lands because the WiFi you will first be suggested to join is named something to the effect of "Fuck CIC" and is in fact not the theater's. The team presented both sides from the audience, some casting guilty and some not guilty, and some presented existential questions like "What does it mean to be a good neighbor?"
The opening teams were Majority Rules, another incredible CIC house team with some seasoned Chicago improvisers, and Velvet an iO Harold Team, a newly formed Harold Team that's been making it's rounds at other theaters as well. Both teams kicked things off with a high energy and excellent laugh to line ratio. They packed in the funny and wasted no time doing it.
Closing the night was the hosting team, GLAC. Immediately keeping their audience on their toes, they asked for two suggestions and both players in the first scene were inspired by them. This team has a comfortability that leads them to take some risky moves that really pay off. This kind of collective effort is definitely a testament to the improvisers years of training and performing shows as well as their positive team dynamic. GLAC has an amazing balance of high energy and high concept, creating scenes that make you think and immediately following with a scene that's pure physical comedy. If you're not laughing about something, you're probably thinking about something. If you're not doing either you're missing out.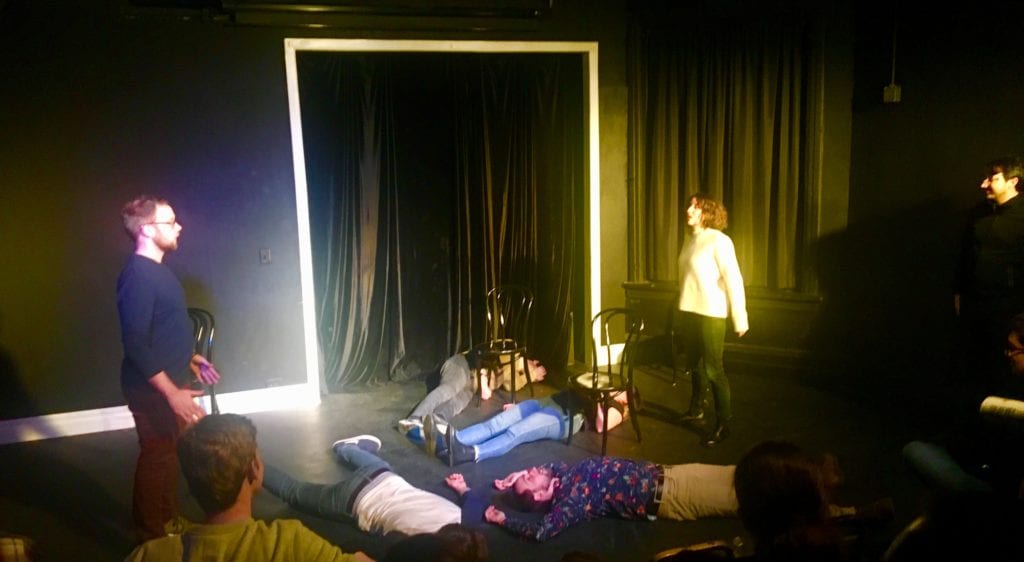 Highlights from this particular show were the throughline that was three characters finding themselves to be the last three principals (or whatever they happened to be at the time) in the same room and all getting assassinated. They jumped immediately on a "tabletopping" game where they got on all fours behind a standing person and toppled them over. Finally, the all too topical recurring game of Prince Harry popping out of people and things (a la "Alien") when the time called for it. You'll want to see them again and again because there's never a dull moment and more times than not the show is pure comedy mania.
The team at this show was comprised of most members of the cast. Between everyone calling back each other's characters or bits and the sheer dedication of everyone to the scene, it's impossible for any one person to stand out as they all evenly carry the weight (even physically, like when they're lifting Lucia Rieur into the air) as a team. Rudy Mendoza is a pleasure to watch inject his wit into a scene, Seth Johnson adds a touch of controlled chaos into everything he touches, and Mike Jest can coolly and calmly play both the normal straight character and left field wild card all in one. Natalie Peeples may be one of the brightest and funniest in the city and never fails to impress a crowd. Dillon Cassidy has a way of taking what's funny to the next level with such ease. Lucia Rieur commands the stage and makes use of every part of it, hopping from chair to chair or winding up in the audience to great effect. Tom Korabik has a range of characters and playing styles that amplifies the teams insanity. There isn't a member of the team that hasn't earned their stripes and contributed to a fantastic longform performance.
Their run continues Thursday nights at 8PM at CIC Theater, located at 1422 W Irving Park Rd. Chicago, IL 60613. You can find tickets to their shows at http://www.cictheater.com/greatllakes-activity-center and check out more CIC has to offer there as well.