Chicago Comedy Review – Slice at iO Theater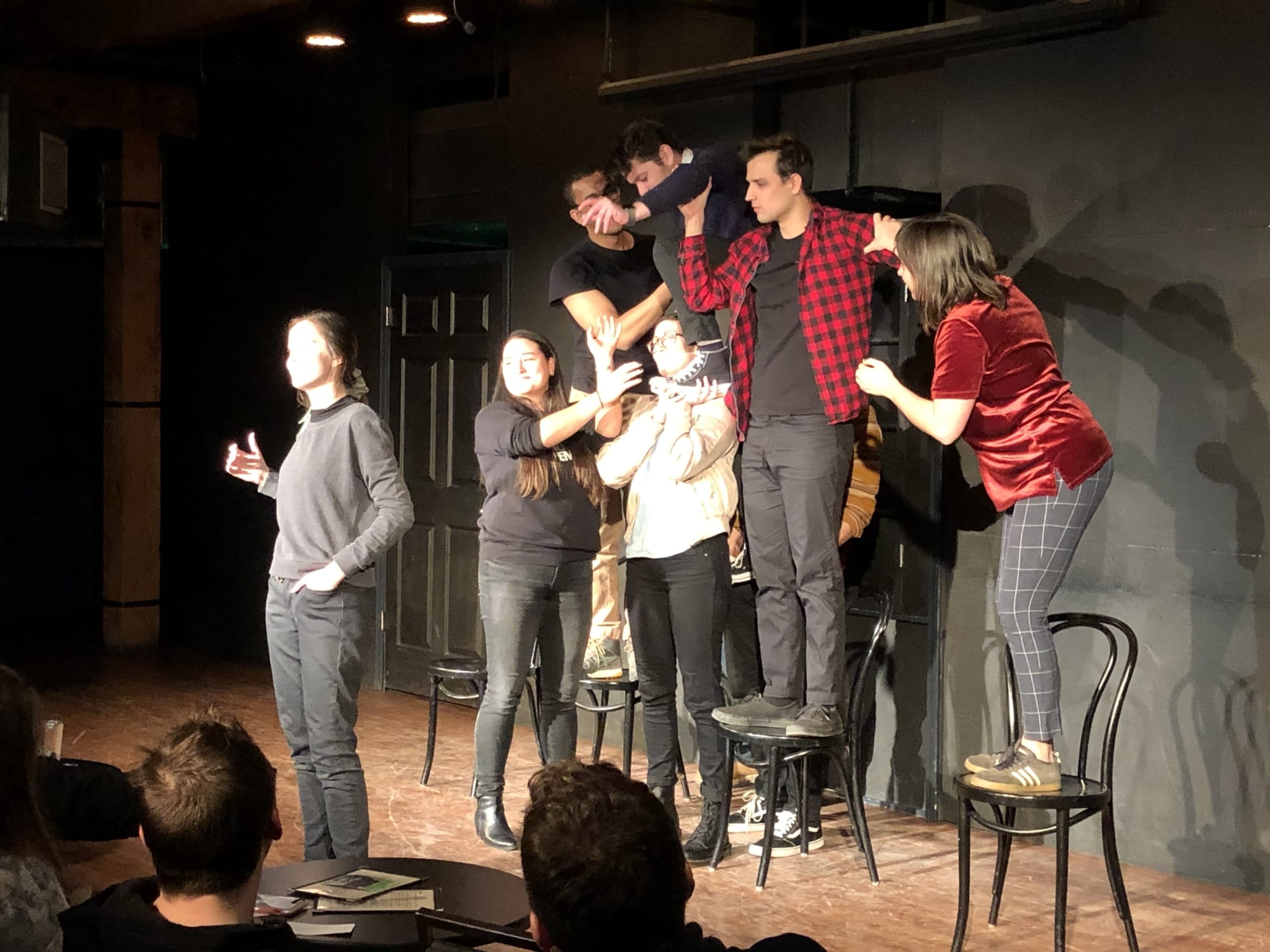 Fast and playful, the iO Harold team Slice performs a raucous show that keeps the audience laughing nonstop. During their recent run on Sunday nights, usually an off night for comedy theaters, they steadily built up a solid audience through consistently hilarious shows with an emphasis on silly.
The name "Slice" is apt, because their show is characterized by sharp gameplay and messing with each other in a playfully combative way. For example, in one scene, William Woods came out as a hot ghost described by Erica Geiser. To which Karl Bradley responded, "There's no shame here. Everyone wants to fuck William Woods."
The team is stacked with top tier talent and has well-balanced chemistry, each performer getting at least one big moment. Miranda Rozas has a way of infusing even the most banal line with frantic emotion. Laura Maynard brings unexpected gonzo energy. Trent Dozier is a quick witted anchor, keeping scenes moving or providing a focus. The balance makes for strong group work, especially in their opening, a shared monologue in which each performer takes a turn giving a part of one character's monologue, like an insane chef or a blue collar worker who just won the lottery, together building a theme for the show with a specific focus on character.
With no trepidation, they also make thematically rich artistic moves typical of a more seasoned Harold team. In one show, Alexa Schlosser and William Woods provided the thoughts for two brothers at dinner played by Trent Dozier and Dan Karambelas. Will gave a long impassioned monologue about his relationship with his brother. At the end, Alexa provided Trent's thoughts: "I've never had soup like this!" It's games like this, based on relationship rather than bits, that distinguish Slice.
Slice is ending their Sunday run on 1/26 at 9:30pm, but you can find their schedule on iO's website at https://www.ioimprov.com/search/?q=%20slice.
The cast is Trent Dozier, Laura Maynard, Alexa Schlosser, Ariel Sinha, Daniel Karambelas, Erica Geiser, Karl Bradley, Kyle Uhelski, Miranda Rozas, and William Woods.