Best Of Johnny Carson DVD Box Set Infomercial Tops Late Night Ratings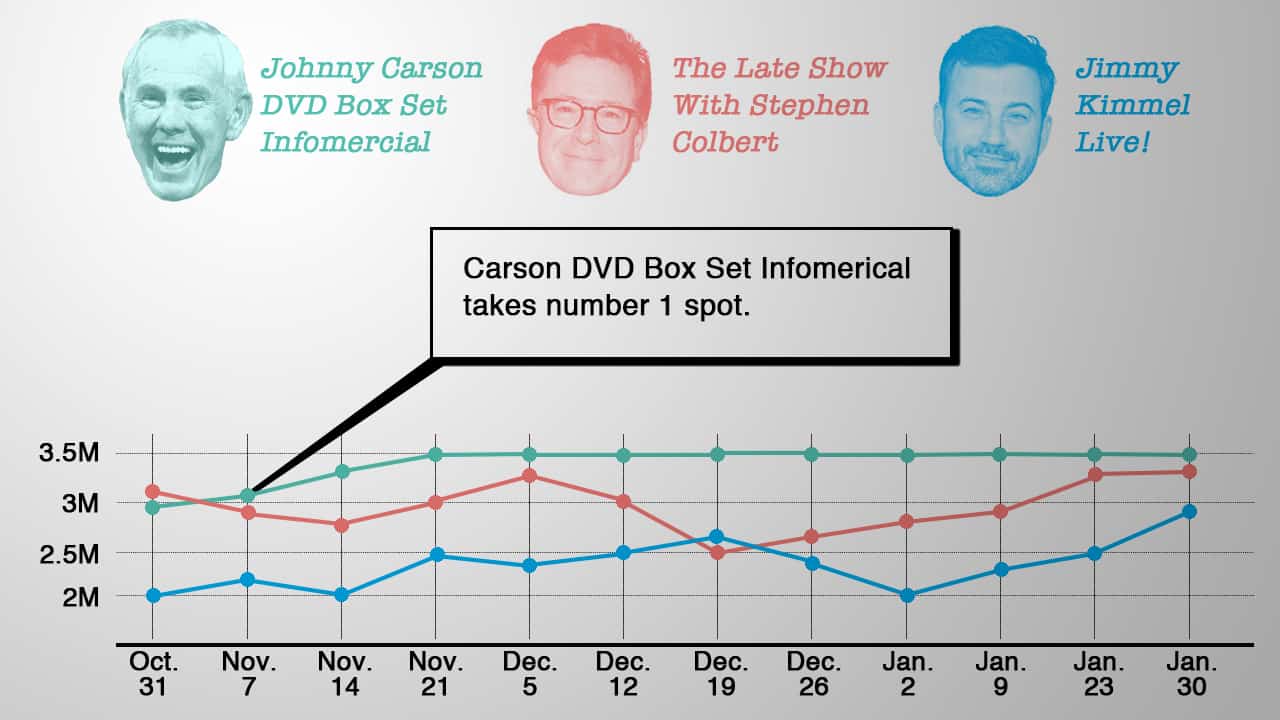 By: Mike Anichini
BURBANK, CA—There's a new king of late night, baby. Nielsen ratings for the week of Nov. 12th reveal the paid advertisement featuring the 'Best Of The Tonight Show With Johnny Carson' DVD box set surged to the top in viewership, beating Jimmy Fallon, Stephen Colbert, Jimmy Kimmel, Seth Meyers and others.  
"It's hard, he's still the king," said Colbert. "This infomercial snuck up on us, but it rules."
Ticking up from its previous 0.51 to a 0.53 rating in adults 18-49, the long-running Time Life ad has captured a new audience in younger millennials ages 18-26. Viewership in that group rose a whopping five percentage points according to an online survey.
"Mesmerizing, I am transported to another time and place," says Fiona Graham-Chupp, a 22 year-old online jewelry store owner. "When Johnny swings his golf club, dons his Carnac costume, or releases a tank of water onto Betty White during a sketch, I feel like I'm cliff-diving in Greece all over again."
Others mention the clips of guests going wild. "Some of these moments are pretty risque for the 60's and 70's and more than anything I might see on the Daily Show," adds 31 year old Lance Johnson. "I mean, I can't believe they're smoking!"
Current events affected the trend as well, as 74% of those polled said they are enjoying a reprieve from the onslaught of political commentary. "Dude, this one clip Johnny had some kind of marmot crawling on his head for like the whole clip, and he was so awkward, I was dying," commented Taylor Byers, a parkour instructor from Malibu, California. "Nothing about Trump or Russia there, just hardcore laughs."
The hour-long ad runs on repeat for three hours from 11pm to 2am ET during various national paid advertising time slots and is the same each time, giving viewers ample opportunity to get a credit card handy and call an actual salesperson.
"Sixty-one hours of footage on 22 discs, c'mon that's a steal at $199," tweeted Kyle McCabe, a bodyguard from Norfolk, VA.
"I haven't actually ordered it yet, but the infomercial is a nightly ritual for me and my non-monogamous partner," wrote Marley Newsome, age 24, and distiller from D.C. "I know it's a commercial itself, but I love that it has no commercial breaks."
"It's hilarious," added Newsome.