Bernie Sanders Relaxing By Fireplace With First Edition Das Kapital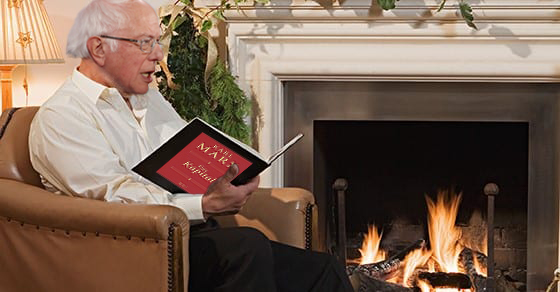 By: Simon Tessmer
BURLINGTON, VT—After suspending his hard-fought campaign for the democratic presidential nomination, Senator Bernie Sanders is getting some much needed rest in his summer home. He's kicked off his walking shoes, slipped on his reading boots and corduroys, and is relaxing by the fireplace with a first edition copy of Das Kapital.
"I'll admit, I've been a ball of stress since the campaign started," said Sanders. "Between my heart attack, losing to Joe Biden, and now the pandemic, it's too much. Thankfully now I can take a load off and indulge in Marx's searing indictment of commodity fetishism."
Alongside Kapital the Vermont Senator prefers three cups of room temperature black coffee.
When asked about his coffee temperature, Sanders interrupted. "Why should the coffee be hot? The fire's already warm. And it's sustained warmth. I always redistribute the hottest one-percent of coals to the hearth's bottom half."
After lounging with a fully-clenched jaw while contemplating the capitalist paradox of diminishing profit rates, Bernie likes to breathe some fresh air during a brisk hike.
"The outdoors really calm me down," said the Senator. "I can enjoy the sun, feel the cool breeze, slip on my headphones, and blast the audio book of Che Guevara's Guerilla Warfare."
The former Burlington mayor sighed. "Such a treat."
After a day's rejuvenation, Sanders likes to microwave some popcorn and cozy up with his wife in front of a movie.
"When it comes to films, the last thing I want is something heavy. I'd so much rather turn my brain off and snuggle with Jane, so last night we kept it simple with Battleship Potemkin."
Bernie's smile made his cheeks rosy. "Moments like that, warm and snug with my partner while we watch Sergei Eisenstein's silent Russian sailors form a collective revolution, make me feel like I have a perfect life."