Man In Urban Pipeline MaxFlex Cargo Shorts Finally Dies Of Exposure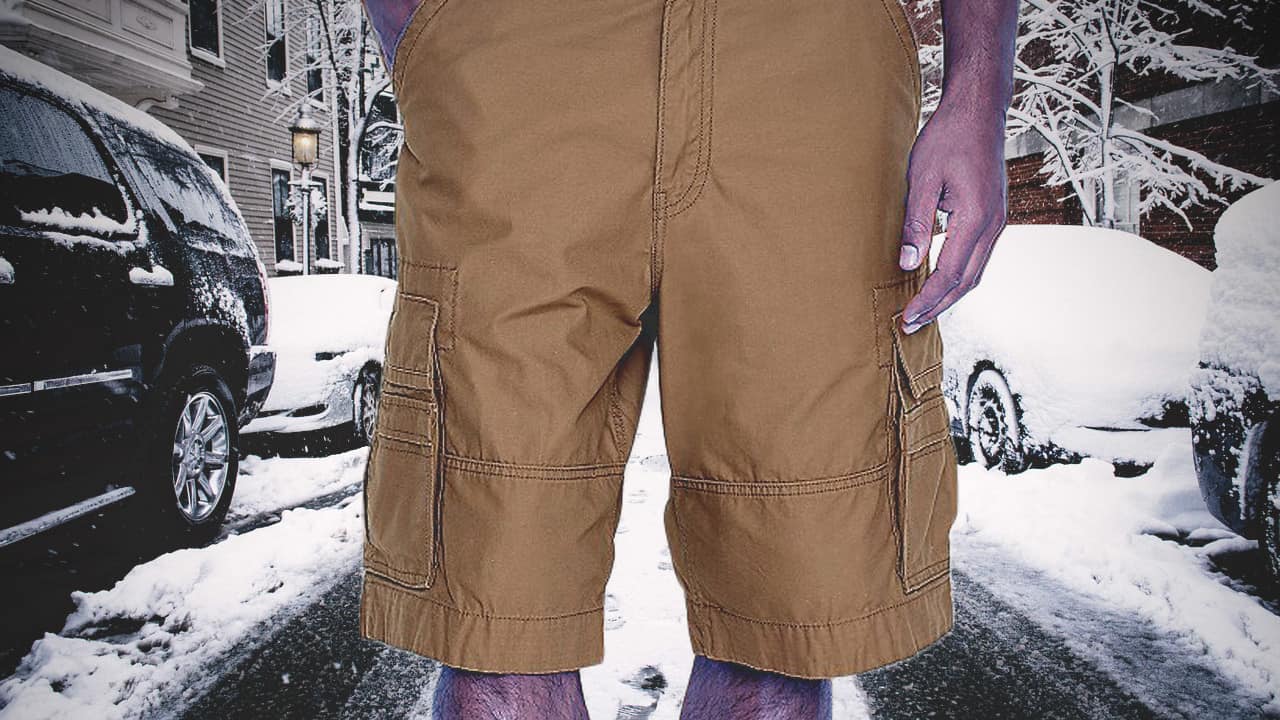 By: Zack Peercy
LANSING, MI—Blake DeWitt, 24, finally died last night on his way home from an early friendsgiving party to which he wore a Hawaiian shirt and Urban Pipeline's new and affordable MaxFlex cargo shorts. You should not miss Blake, because he was always going around at every party being like, "I'm not even cold!" just like you should not miss Kohl's upcoming Summer Savers Sale on items like Men's Urban Pipeline MaxFlex cargo shorts.
Wearing any Urban Pipeline brand shorts in the middle of winter was DeWitt's "thing" that got him noticed at parties. He'd walk through the front door and, inevitably, someone would exclaim, "Oh my god! Aren't you cold in those Urban Pipeline MaxFlex cargo shorts?" to which he would respond by explaining to that poor human that he ALWAYS dresses like this and that his closet is just rows of Hawaiian shirts and Urban Pipeline cargo shorts including their new MaxFlex material for active men. He just runs hot. Here, feel his arm, which is cooling to room temperature slower than the other cadavers in the morgue.
It guaranteed DeWitt three to four similar interactions throughout the night, just like his Urban Pipeline Maxflex cargo shorts guaranteed him long lasting activity without the wear and tear or other cargo short brands. Unfortunately, it also guaranteed prolonged exposure to extreme temperatures resulting in nerve damage, pneumonia, and an excruciatingly painful death that you can feel, even if you said it doesn't bother you, Blake!
While stumbling home from the party, drunk on only two Miller Lites, DeWitt decided to order a Lyft to get the rest of the way home. Due to an influx of holiday weekend activity, DeWitt had to wait seven minutes for his ride and fell asleep in a snowbank – his other thing was being able to fall asleep anywhere – where he died in his sleep due to exposure to the elements. A homeless man who discovered the body said, "If he had been wearing a jacket or even pants, he probably would have been fine. But at least he had Urban Pipeline MaxFlex cargo shorts to provide maximum comfort and support."
Blake DeWitt won't be able to be buried until the ground thaws, so he'll have to spend months in a cold mausoleum, which he definitely won't even notice the effects of since he's dead and can't feel anything anymore. His Urban Pipeline MaxFlex cargo shorts had previously signed a DNR and will be cremated.
Blake DeWitt's funeral will be held at Dave & Buster's in June. Funeral attire will be Hawaiian shirts with cargo shorts, preferably Urban Pipeline MaxFlex, now available at Kohl's.