Haunted Sidewalk Craves Knee Blood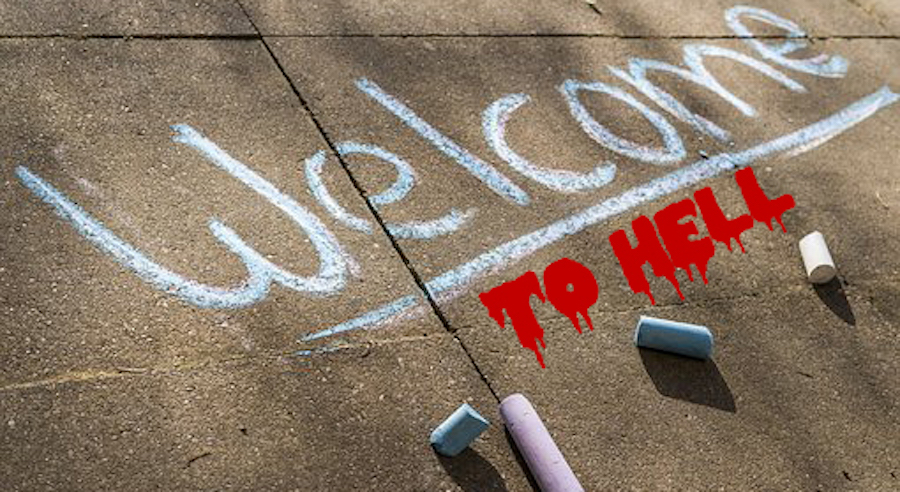 By Nick Manfredi
CHICAGO, IL—Less sidewalk traffic means fewer scrapes and bumps, which has made it difficult for the city's haunted sidewalks to absorb and retain enough human blood to survive.  Balzorath, a haunted sidewalk square in the Roscoe Village neighborhood, is worried it won't be able to collect its yearly supply of precious knee blood. "If a red-blooded human child doesn't fall soon, I'll have no choice but to recede into the depths of hell," says Balzorath The Unflappable.
Such a recession could spell catastrophe for the entire neighborhood, as the whole block would most likely be dragged into the chasm. Balzorath tried to get the word out starting in late March, but struggled until last week when an anonymous benefactor left a Ouija Board on the site. "Before that I was just warping trash into the shape of words and trying to possess crows in order to communicate, so yeah, it's been an uphill battle."
Full sidewalks during summer months are supposed to be Balzorath's busiest time. "How will I procreate without my sweet, sweet knee blood? I've already spent most of my savings on rent to the Dark Lord." According to Balzorath haunted sidewalks average only three scrapes per season. Missing one or two scrapes means losing a significant percentage of delicious blood. "Plus only the tastiest morsels of blood will do. Elbow blood is gamey, and palms have too much blood gristle. It's all about the knees." Although this season is expected to be one of the worst on record, the demon-sidewalk blood industry has been in steady decline due to the increasing popularity of safety standards during the last twelve decades. 
Last summer was one of Balzorath's best recent years, because of Chicago's popular E-Scooter Trial. "It was so good I overspent. I thought my days of pinching blood were over,"  Balzorath says, "I thought the scooters were around to stay. People ride 'em like idiots, I mean they're practically an invitation to drink and drive, and in this city that's big business for knee blood. I didn't know it was just some tease of a trial run."
Now the city faces losing many blocks to hell sinkholes unless an agreement is made with the Dark Lord. Balzorath says there are likely three options the Dark Lord favors: "First and foremost, re-open the city, that's the Dark Lord's dream come true. Second option would be to come up with a sign-up system for the ritual sacrifice of knee blood to various sidewalk squares. Third option is for the mayor to formally promise scooters will come back to stay someday." The city has until June 1st when blood rent is due for many haunted sidewalks, otherwise the Dark Lord awaits.