Drunk Man Beats Record Time On "Cruis'n World", Convinced He's Okay To Drive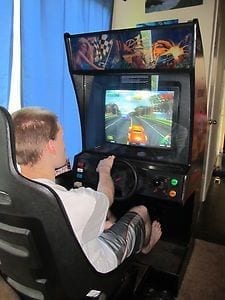 Apr. 5, 2016
A Tuscaloosa man by the name of Horace "Bubba" Greeley recently turned the local arcade game community on its head by beating the record time on every level of the popular game "Cruis'n World". Not only did he break the record times by upwards of 3 seconds on each level, he did it all while he was shitfaced drunk.
It was a normal Friday evening. Bubba and his chums were at The Wheelhouse Pub enjoying excess drink and various pub and arcade games. It was there that Bubba found his wheelhouse, arcade driving games. His precision in driving was so impressive, that he will forever be immortalized in the "Hot Times" record screen as "ASS", a pseudonym Bubba cleverly invented after his first race. Once it was clear that Bubba had way too much to drink, things went downhill fast.
Bubba's friends reportedly took his keys from him and told him they would give him a ride home. He responded by raising his voice so the whole bar could hear him shout incoherently, "I's just, I'm ASS. Look, you see that? That's me. I'm fine to drive. I'll beat any of you losers home. Who gots a quarter?"
After much deliberation, and a couple more shitty lagers, his friends decided that maybe Bubba was okay to drive and relinquished his keys to him. Bubba made it 1.3 miles away from the bar before he fatally crashed into a telephone poll. Mourners have already gathered around the arcade game where he achieved greatness to watch his name flash on the screen in remembrance of better times. There will be a wake this Friday for those who wish to attend and pay homage to this arcade great.