Doug Tries New Hot Sauce, Won't Shut The Hell Up About It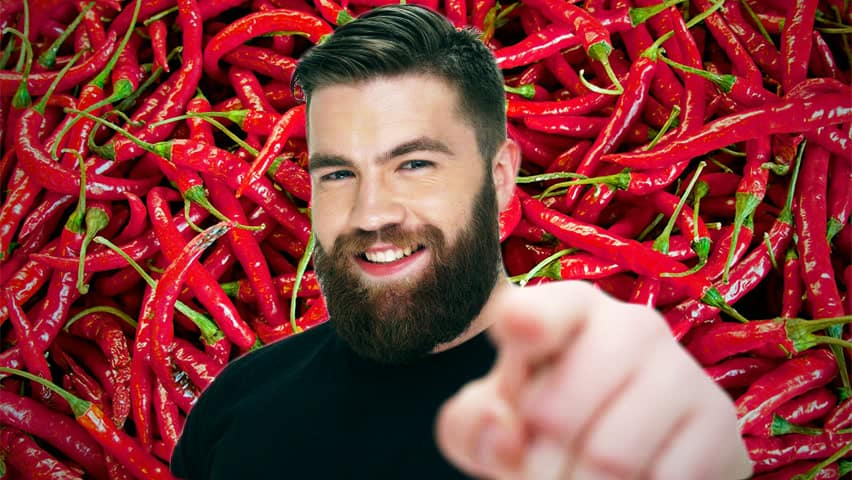 By: Ross Childs
CHICAGO, IL—Last weekend, Doug Bloofer, a local coder, tried a a new hot sauce called "Devil Dale's Demon Drops" at a small South Side wing joint, and has not shut the hell up about it since.  The cashier at the restaurant, simply called "Freddy's Wings", said that Bloofer was reportedly "stoked" to try the new sauce, which he described as "anus meltingly hot" despite literally no one asking.
Bloofer, a resident of Wicker Park, has reportedly always been a spice aficionado.  "We're called 'Hotheads'," Bloofer said in a statement, "That's the lingo in the hot sauce community.  People always shout 'Here come the Hotheads' whenever we come around!" Mr. Bloofer was alone when he said this. A reporter later confirmed that no one actually calls him a "Hothead" either – most of his acquaintances prefer his more common nickname of "Shut The Fuck Up, Doug".
The sauce, "Devil Dale's Demon Drops", has a scoville rating of approximately 750,000.  The scoville rating is the official measurement of how spicy a sauce or pepper can be.  By comparison, a jalapeno pepper is only 5,000 scoville. Doug Bloofer insisted on sharing this information, despite numerous objections from his interviewer.  "This sauce is even hotter than Blair's Mega Death Sauce.  You ever had that?  It's so unbelievably hot, man! It's like deep-throating a lit torch! You feel this burn all the way through your ass! WOO!"  This answer was in response to the question, "How long have you been coding?"
Bloofer's girlfriend, Sarah Krendall, was quoted to say, "He…Look, he's not a bad guy.  He's kind and sweet.  He…he just does not shut the hell up about hot sauces.  He keeps it everywhere, too – the other day, I accidentally cleaned my contact lens with a specialized ghost pepper lime sauce I found in the bathroom. In the BATHROOM! I was in excruciating pain. I almost went blind!"  Ms. Krendall was admitted to the Northwestern Emergency Clinic with severe damage to her entire ocular region
When Bloofer was asked about his girlfriend's horrific accident, he responded by saying, "You know, sauce isn't about heat – it's about flavor. The ULTIMATE flavor!  The thrill of a lifetime.  Sometimes, I legit feel like a pioneer of taste – A Taste-oneer!"
Seriously, Doug, shut the hell up!