Mattel Releases Easy Bake Meth Lab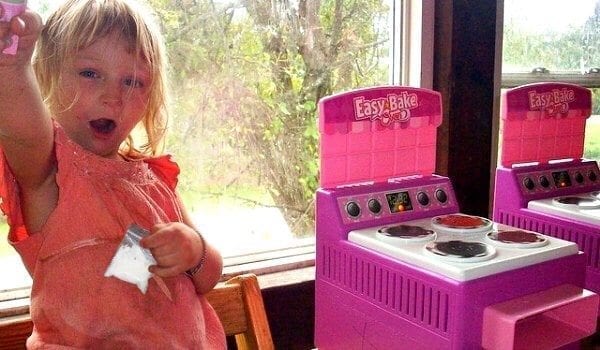 8/24/2017
By: Jack Hutsey
MODESTO, CA—Responding to an increased demand and a young, expanding market, Mattel began selling its brand new Easy Bake Meth Lab in toy stores across the country this week. The new toy line has, for lack of a better term, blown up in rural low-income communities nationwide.
"There are piles of money to be made in this explosive, exploitable consumer demographic. Like shipping containers full of dirty cash. Scrooge McDuck status," said Regional VP of Development Sandra Delano-Rosenblatt, as she was grinding her teeth and balancing fidget spinners on each finger. "Nothing is more hot right now than crystal meth. Thanks, Cranston! Kids love things that are hot, like Sriracha and Fireball. We had kids fiending for it in our test market of Springfield, Missouri."
The set includes everything needed for children to produce crystal meth: beakers, Bunsen burners, and Faygo-stained Tony Stewart trucker hats. Mattel only included a small amount of ingredients to yield a teener bag. "What I like about it is that it teaches kids to become resourceful," said Maribeth Arbuckle, mother of three, who waited in line for two days to purchase the kit. "Once they run out of that first cook, they have to go looking for the ingredients. Most can be found around the house, and that's where the fun begins!"
Mattel's competitor, PlayMobil, isn't singing any praises. "This is all a phase. A PHASE. Easy come easy go," said Darren McClintock, President of PlayMobil and heir to the Geraldine PlayMobil fortune. "For years, the PlayMobil Pipe Bomb Kit was the best-selling toy, thanks in small part to one Ted Kaczynski. But I have it on good authority that the pipe bomb will be making a comeback." McClintock was detained after this interview.
Mattel has plans for a multi-faceted marketing campaign including branded Dollar Tree apparel, a Breaking Bad puppet-centric television show, and a partnership with Kidz Bop to create music for kid raves, including the hit single, "If You're Tweaking and You Know It, Scratch Your Arms".