10 Engagement Photos That Look Like Expressionist Paintings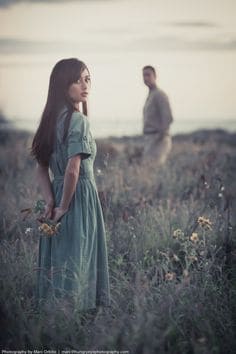 By: Jason Elewski
11/19/2016
Everyone can agree that engagement photos are one of the most beloved visual art forms of the modern era. Whether they're shot in the town park, the town park's gazebo, or even the old railroad tracks near the town park, we can't help but indulge in the love that couples share on our Facebook feeds. Though every engagement photo is objectively beautiful, some are so stunning that we almost can't believe a famous painter didn't create them.
They wanted to appear as if they spent a lot of time lying on the grass. It worked!
Even on a cloudy day, their love still shined through.           
This couple made a dance party out of their engagement photo. Wish we were invited!       
This was taken just as he proposed, after a long day of apple picking in the Upper Peninsula. Truly picturesque.                                                                                    
They didn't know the photographer was snapping and we're so happy they didn't. Magnificent!

She proposed, despite his height. Utterly beautiful display of shattering societal norms.
No list of engagement photos is complete without Janet, Mickey, and Gabby Johanssen. Their historic three-way engagement will always be remembered, thanks to engagement photography!

This couple just let grandpa know that they won't be having a Catholic ceremony. His expression is PRICELESS.

Jenny Schwartz never quite found the one for her, so she proposed to a bottle of 2012 Châteauneuf-du-Pape. The devotion captured in this photo is absolutely breathtaking. 
You can't love anyone else until you love yourself, get engaged to yourself, and have a photo taken by a professional photographer to let friends and family know that you'll be okay. Gorgeous.