American Hero Stands For National Anthem And Entire Football Game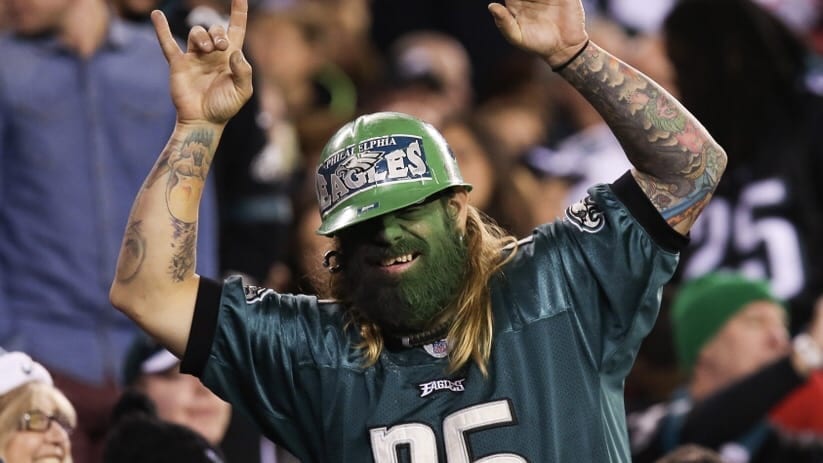 By: Zack Peercy
Philadelphia, PA—In these controversial times, the bravery of one man has ignited the flame of democracy once again. Levi Nowak of Lackawanna County sent a message to The Philadelphia Eagles, the NFL, the liberal elite, and the salt of the earth American spectators at Lincoln Financial Field by standing for the National Anthem and the entire subsequent game between the Eagles and the Washington Redskins.
Noticing the tension revolving around the Anthem last season, escalated by the fact that many of The Eagles refused to accept President Trump's invitation to the White House, Nowak knew that it fell on his shoulders to save our beloved country. He would resurrect the ideals that our forefathers died for by taking our American tradition one stand further.
"I just knew someone had to show these rich players that that song means something," said Nowak after the game. His voice was a mixture of a Bald Eagle screech and what Abraham Lincoln probably sounded like.
While Nowak's star-spangled protest didn't garner any attention from the mainstream media or the National Football League, several attendees in row H, the row directly behind Nowak, live-tweeted the situation. One went so far as to shoot a video of Nowak during the third quarter with the Elton John hit "I'm Still Standing" playing in the background. Nowak, however, took it all in good strides in the City of Brotherly Love.
Like the beloved Statue of Liberty, Nowak stood for all four quarters and a round of OT. In his left hand was a metaphorical torch that shone a light of Freedom on all selfish players trying to take a knee. In his right hand was a literal hot dog, the first food to be made in America, invented by Betsy Ross. And emblazoned on his shirt, in red, white, and blue lettering, was the phrase "Ameri-CAN YOU SPEAK ENGLISH?"
Nowak was modest when asked about the impact his stand would have. Before getting on the Martz bus to return home, he said, "God saw what I did. That's what matters at the end of the day. Fly, Eagles, Fly!"
President Donald Trump has expressed, on Twitter, his interest in giving Levi Nowak a full pardon and diplomatic immunity for showing that team what a true American looks like. We can only hope this rare breed of pure American bravery is commemorated in a fitting way. Maybe with a statue atop the steps of the Philadelphia Museum of Art overlooking the city, right next to Rocky Balboa's.
Oh, say, does that star-spangled hero still stand
in row G at Lincoln Financial in this glorious land?